Mihajlovic to drivers: Time for responsible and serious behavior, three seconds for a life
Thu, 03/12/2020 - 14:46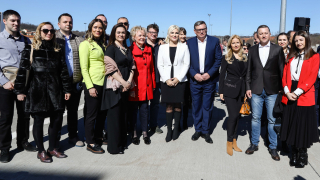 Deputy Prime Minister and Minister of Construction, Transport and Infrastructure, prof. Zorana Mihajlovic PhD, attended today the presentation of the educational campaign of PE Roads of Serbia "Three Seconds, Whole Life" at the payment station "Belgrade".

Mihajlovic emphasized that three seconds is not enough and that in three seconds we can endanger our lives, lives of our loved ones, as well as other traffic participants.

"It is important that we appeal to and educate all drivers to take care of themselves and their families, but also to protect others from themselves. Time today requires all of us to take seriousness and responsibility and to take care of safety," she said.

Mihajlovic also said that the most dangerous are those drivers who believe that it cannot happen to them because they have good cars and think they are the best drivers.
"It is drivers who are the biggest danger on the roads. Same with the Crown Virus - the least responsible are those who today think it's nonsense," she said.

Deputy Prime Minister added that the state is building roads because good roads reduce the chance of accidents, and the goal is zero tolerance for those killed in traffic.

"By the beginning of March, no one was killed on highway Milos the Great, while nine people were killed on Ibar Highway. It is also important for each of us to contribute to responsible behavior, to think about what this means for our children and our children's safety when sitting in a car," she concluded.

Zoran Drobnjak, director of PE Roads of Serbia, said that in addition to building and maintaining roads, this public company gives significant resources for traffic safety.
"Together with the Ministry of Transport and the Ministry of Interior Affairs, we are working to ensure that as few people as possible are killed in traffic and a lot of security is allocated," he said.
RTS journalist, Dragan Milutinovic, said the action was intended to educate drivers and to show that three seconds to look at navigation, radio, telephone, could lead to crashes with catastrophic consequences.

"We want to emphasize the importance of keeping your distance, especially in the case of a fog, slippery roads and inclement weather," he said.

Journalists Srdjan Predojevic, Slobodan Sarenac, Biljana Vranes and Vladimir Jelicic participate in the video "Three Seconds Whole Life".