Mihajlovic: Due to the announced precipitation, the order is issued to public companies and agencies to take preventive measures
Mon, 05-13-2019 - 15:45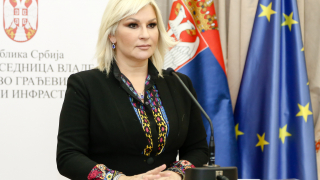 Deputy Prime Minister and Minister of Construction, Transport and Infrastructure, prof. Zorana Mihajlovic PhD, has ordered all public companies and agencies from the sector that due to the abundant precipitation announced by the Republic Hydro meteorological Institute of Serbia, to take all preventive measures in order to eliminate the possible negative consequences for infrastructure and traffic.


"It is very important to undertake all planning and preventive measures, since due to the large amounts of precipitation, there can be damage to the traffic infrastructure as well as the objects under construction," Mihajlovic said.

 
In resor of the Ministry of construction, transport and infrastructure are public companies: "Roads of Serbia", "Corridors of Serbia", railway companies "Infrastructure of Railways of Serbia", "Serbia Cargo" and "Serbia Train", Railway Directorate, CIP Institute of Traffic, Agency for Traffic Safety. The order also applies to Nikola Tesla Airport, Konstantin The Great Airport in Nis, Air Srbija and Jat Tehnika, Directorate of Civil Aviation of Serbia, Control of Flying of Serbia and Montenegro - SMATSA, Port Authority, Agency for Management ports, Waterways Directorate, Directorate for Determination of Ability of Vessels for Navigation and the Construction Directorate of Serbia.