Mihajlovic with EBRD Director for the Western Balkans, Zsuzsanna Hargitai
Wed, 07-08-2020 - 20:34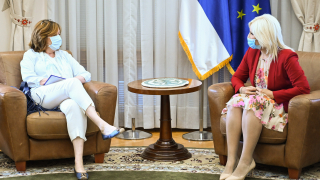 Deputy Prime Minister, prof. Zorana Mihajlovic, phD, talked today with the Director of the European Bank for Reconstruction and Development (EBRD) for the Western Balkans, Zsuzsanna Hargitai.
Mihajlovic and Hargitai agreed that the previous cooperation between the ministry and EBRD on infrastructure projects is of great importance for Serbia, as well as that the cooperation will be continued in mutual interest.
Mihajlovic expressed great satisfaction that EBRD wants to continue investing in leading projects in the field of railways, air and water transport, which will further strengthen the country's economic development.
"Cooperation with EBRD and their readiness for new investments in Serbia show the stability of our country and public finances and how this bank sees the economy of our country. It is also important that EBRD wants to invest in smaller projects that are of great importance to many Serbian citizens, such as financing the rehabilitation of the regional road network, for which EBRD and EIB are ready to invest a total of 100 million," Mihajlovic pointed out.
The Director of EBRD also expressed her readiness for this bank to participate in the realization of one of the largest infrastructure projects, namely the modernization of the railway Corridor 10 from Belgrade to Nis.