Mihajlovic: The economy must not stop, work with all precautions
Fri, 07-03-2020 - 14:17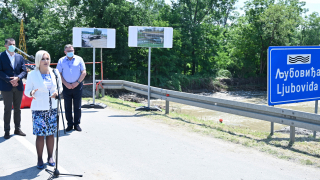 Deputy Prime Minister and Minister of Construction, Transport and Infrastructure, prof. Zorana Mihajlovic, phD, stated today in Ljubovija that the recommendation of this Ministry from the beginning of the corona virus epidemic that affected Serbia and the whole world was to work with all precautionary measures.
"Today, we have 5,700 workers on construction sites throughout Serbia. "For now, we do not have anyone infected and my message to everyone is to be responsible and that we can save ourselves with all the precautions," she said.
Mihajlovic reminded that the construction season is in full swing and called on everyone who can work that it is important to work.
"The economy must not stop. It is important that our economic growth progresses at least minimally. All major infrastructure projects are currently underway - from Morava Corridor, Sremska Raca-Kuzmin highway, Ruma-Sabac-Loznica, the modernization of the high-speed railway from Belgrade to Budapest, Belgrade Bypass, and in August I expect a tender for a new highway from Nis to Plocnik," she said.