Mihajlovic: Favorably-priced apartments for both military disabled and families of fallen soldiers
Tue, 07-23-2019 - 14:36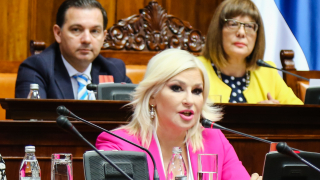 Deputy Prime Minister and Minister of Construction, Transport and Infrastructure prof. Zorana Mihajlovic PhD., said today that the Bill on Amendments to the Law on Special Conditions for the Implementation of the Construction of Apartments for the members of Security Forces extends the circle of those who are eligible to apply for these apartments to fighters, members of the families of fallen soldiers, soldiers who became disabled in the war and peacetime military disabled individuals.
 
"The construction of apartments for security forces in four cities is already being realized, the beginning of works in two more cities is being prepared, and the plan is to build 8,022 apartments in the first phase. We make amendments to the law because we have concluded that it is necessary to expand the circle of persons to whom the law applies to. Also, since many would like to buy apartments in the territory of Belgrade, we will regulate changes in the law that the priority for the purchase of apartments in Belgrade is for those who are registered to be living in Belgrade, " Mihajlovic said, presenting a bill proposal to national envoys in the Parliament.
Our plan is to build 8.022 apartments in the first phase for the members of the security forces, and we already started with the construction of about 1,530 apartments. 186 apartments are being built in Vranje, 190 in Nis, in Kraljevo 200 apartments, 216 in Kragujevac, in Novi Sad, 548 apartments will be built, and 190 will be built in Sremska Mitrovica. The value of the project with complete infrastructure is around 325 million euros, "said Mihajlovic.

She added that the prices of these apartments, not including VAT, would cost 400 euros in Vranje and Kraljevo, 450 euros in Nis, in Kragujevac and Sremska Mitrovica 430 euros, in Novi Sad and in Belgrade 500 euros. "In addition to being important in resolving the housing issue of members of the security forces, this project is also significant due to the growth of GDP and large, medium and small enterprises that will participate in its implementation," she said, adding that expansion will be considered in regards to housing program and other categories alongside security forces.
Mihajlovic added that the realization of this project is a result of the country's political and economic stability and that the total value of infrastructure projects in realization or in preparation phase amounts to more than 14 billion euros.