Mihajlovic: The first train from China arrives to Serbia, a great opportunity for our businessmen
Fri, 10-25-2019 - 12:06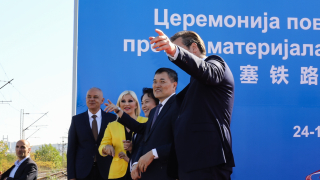 Deputy Prime Minister and Minister of Construction, Transport and Infrastructure, prof. Zorana Mihajlovic PhD, attended today, together with the President of the Republic of Serbia, Aleksandar Vucic, and Vince Minister of Commerce of the People's Republic of China, Qian Keming, the arrival of the first freight train from China to Serbia.
On that occasion, Mihajlovic emphasized that this provided Serbia with a railway cargo line with People's Republic of China, and that the freight train brought more than 500 tons of Belgrade-Budapest high-speed railway equipment, starting September 24th from Chinese city of Jinan in the province of Shandong.
 
"The opening of this railway freight line is significant both for ours, as well as for businessmen from the region, as they are given the opportunity to export their products to the Chinese market, but also to import goods from China. Thanks to the good relations of the two presidents, Aleksandar Vucic and Xi Jinping, our bilateral and economic cooperation is getting better," she said.

Mihajlovic added that rail traffic is much more cost-effective than air and water transport, and expressed her satisfaction that Serbia is part of the global Belt and Road Initiative, in which rail traffic is one of the central modes of transport, of which Belgrade and Budapest are also part of the high-speed railway line.