Mihajlovic: Food is a brand of Serbia, it is our gold
Thu, 10/10/2019 - 14:58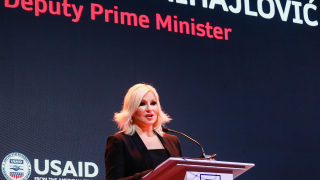 "Food is a Serbian brand, just like people, like Novak Djokovic or Tesla, are Serbian brand. Food is our gold and as long as there are such fairs, it will be a sign that Serbia lives and develops," said Deputy Prime Minister and Minister of Construction, Transport and Infrastructure, prof. Zorana Mihajlovic PhD.

At the opening Belgrade Food Show, she emphasized that as a resor minister she is building roads and railways, which is a base for Serbian products to be marketed not only domestically, but also in the region and beyond.
"We build roads, railway lines and develop airports so that everything produced in Serbia can be shipped outside our country. We aim to represent Serbia in all areas and to make greater use of the potential of the food industry and high quality food. The Government of Serbia has recognized the importance of this area and we will continue to support producers and make Serbian potential more accessible so that the industry's share of GDP is more than 3.5 percent. And for the sake of our people staying alive and working here," she said.
Mihajlovic added that as someone who enjoys food, she is overjoyed with the high quality products that our country has and which should remain a Serbian brand.

USAID Director for Serbia, Pinchotti, said that Serbia has the potential to be a leader in the production of high quality food and that the organization will continue to support our country for further economic development.
"The food industry is a great opportunity and a huge potential for Serbia. I witness with how much creativity and love you prepare food and we want to support others outside of Serbia to find out. This fair is also an opportunity for entrepreneurs to connect and showcase their production," she said.
Dejan Randjic, a member of the Board of Directors of the Serbian Food Promotion Association, expressed his satisfaction that Belgrade Food Show is being held for the second consecutive year, saying that the event is dedicated to Serbia and the region and our highest quality food.

"This is not only a fair and an exhibition, but also a conference where we will hear more about trends in this area. I am sure many will come out even more convinced that Serbia has something to offer, and that we will contribute to more entrepreneurs going through food production," he said.