Mihajlovic: Give Serbia a chance
Tue, 10-22-2019 - 09:09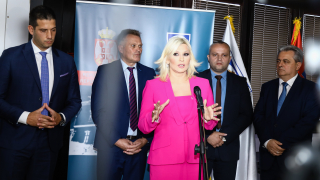 "The essence of the new investment cycle we are launching is the development of the economy and the creation of conditions for a better life and survival. Serbian government is investing a lot in our country to make a better living here. My message to young people and everyone who is thinking of leaving the country is to give Serbia a chance because it is becoming a better place to live," said the Deputy Prime Minister of Serbia and Minister of Construction, Transport and Infrastructure, prof. Zorana Mihajlovic PhD.

Asked to comment on investments in the new investment cycle, Mihajlovic said that in the next few years at least ten billion euros will be invested in infrastructure.

"Infrastructure is a condition of life and survival. Serbia has a significant place in the region and is the shortest route between East and West. That's our trump card and that's why we have been investing in infrastructure for years," she said.

Mihajlovic pointed out that Corridor 11 is being completed, but more highways are being built.
"We are starting construction of Nis-Merdare-Pristina highway, Moravian and Fruska Gora corridors, Sabac-Loznica high-speed railway line. We are working intensively on the reconstruction of rail transport that has not been invested in for decades, which is especially important for our cargo transportation. We are also investing in air traffic. An example is the airport in Nis, which had 1,000 passengers four years ago, with 420,000 at the end of the year," she said.