Mihajlovic with GIZ and KfW: Germany is an important political and economic partner of Serbia
Fri, 10-16-2020 - 08:42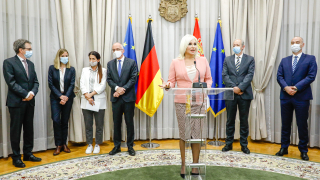 Deputy Prime Minister and Minister of Construction, Transport and Infrastructure, Prof. Zorana Mihajlovic, PhD, met today with the Ambassador of Germany to Serbia Thomas Schieb, the newly appointed Director of the German Development Bank (KfW) in Serbia, Rudiger Hartmann and the Director of the German Organization for International Cooperation (GIZ) for Serbia, Daniela Funke.

Mihajlovic pointed out that without the constant support of GIZ and KfW Bank, we would not have been able to achieve everything we have done in this particularly challenging year.

"We have done a lot in the previous period together, from environmental protection projects, wastewater management and sewerage systems in local governments, to the inclusion of Roma men and women in our society. Thanks to the German government, which is our important political and economic partner, for such support. "Serbia is focused on development, and the support we have from Germany, which has invested 2.1 billion euros in our country through various development aid programs since 2000, is extremely important for us," she said.

Deputy Prime Minister also reminded that Serbia is facing the European Union in foreign trade, and that out of 63% of that exchange, the largest part is with Germany.

"It is important for our future and our path to the EU and the standards we want to introduce. Thank you for your support and for everything we do together and agree on in this difficult year for everyone," Mihajlovic added.

Ambassador Thomas Schieb said that today's meeting was very good, and that the German-Serbian development cooperation has lasted for a long time, since 2000.

"The key areas we are working on are environmental protection, sustainable development and employment, as well as good governance. We have quality cooperation with the Government of Serbia and the Ministry as a key partner, bearing in mind the commitment to improving the position of Roma community through projects that we jointly implement. Thank you for the great cooperation, I believe that we will continue in the same way with the new government," said Schieb.

Daniela Funke pointed out the great cooperation with the Government of Serbia so far, especially on the social inclusion of Roma men and women, who are affected by corona virus pandemic the most.

"Through the project we are implementing during the pandemic, we have provided assistance to numerous Roma families in hygiene and food and equipment packages. It is important that we continue with the realization of projects that will bring new opportunities for training, education and further development, so that we do not have lost generations, especially when it comes to Roma children in education," said Funke.