Mihajlovic: Government Support for the Construction of the Belgrade Metro
Fri, 06/07/2019 - 10:45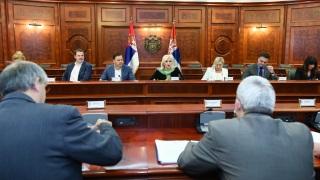 Deputy Prime Minister and Minister of Construction, Transport and Infrastructure, prof. Zorana Mihajlovic PhD., today held a constituent session of the working group for the implementation of the project for the construction of Belgrade metro. At the session, attended by the Minister of Finance, Sinisa Mali, and Assistant Mayor of Belgrade, Andreja Mladenovic, the goals of the work were defined and the planned and legal framework for the realization of the metro construction was discussed.
 
Mihajlovic stressed that the construction of the Belgrade metro is important not only for the city, but for the whole country, and that the working group is there to provide support for monitoring the construction of the metro, as well as to determine and monitor the dynamics of the realization.
 
At the constituent session, it was agreed to present a feasibility study at the next meeting, which will be held next week, with a general project which was developed by the French company Egis.
We are reminding that Deputy Prime Minister of Serbia signed a Memorandum of Cooperation with the Chinese company "Power China" in connection with the implementation of the project "Belgrade Metro" within the second "Belt and Road" Summit held in April this year in China.
 
Representatives of the city administration, Ministry of Construction, Transport and Infrastructure and "Infrastructure of the Railways of Serbia", as members of the Working Group, were present at the constituent session of the Working Group for Monitoring the Implementation of the Project "Construction of the Belgrade Metro".