Mihajlovic: Gratitude to the Israeli investor for investments in Serbia
Thu, 10-15-2020 - 11:11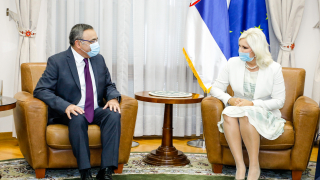 Deputy Prime Minister and Minister of Construction, Transport and Infrastructure, Prof. Zorana Mihajlovic, PhD, met today with the Israeli investor Gili Dekel, president of the "AFI Group", and talked with him about infrastructure projects and investments in Serbia.

"We are proud to cooperate with you, you are one of the best investors in Serbia and I hope that you will stay in our country for a long time. Half a billion worth of investments are commendable and we as the state and the Ministry are here to help and support projects aimed at the growth of our construction sector, which is especially important in such a challenging and difficult year for all, when in addition to health we must maintain the economy and ensure that everyone who can works. "Construction is an important factor in our GDP and economic growth," Mihajlovic pointed out.

Gili Dekel reminded that this group has been present in Serbia for 20 years, since the construction of "Airport City", and that new infrastructure projects are planned.

"We appreciate your commitment and vision of Serbia's development. Infrastructural development in the last few years is amazing and we congratulate you on that. We believe in Serbia and will continue to invest here. Thank you for the support you provide us, our cooperation is exceptional," said Gili.