Mihajlovic: Green corridors are important, due to long waiting times at the borders a loss of 300 million euros a year
Wed, 05-13-2020 - 20:03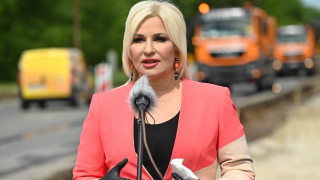 Deputy Prime Minister and Minister of Construction, Transport and Infrastructure, Prof. Zorana Mihajlovic PhD, said today that the idea of ​​green corridors, derived from CEFTA member states, European Union and Western Balkans, should contribute to faster and more efficient border crossings, given that waiting at the borders takes hours.
"Last week, Government of Serbia adopted a decision on green corridors and we are starting implementation. It is a special system and regime in order to do everything necessary at the border crossings in the fastest and most efficient way. "We have already tried it during the state of emergency when it comes to international transport," she said.
Mihajlovic pointed out that waiting at the borders costs a lot - both time and money.
"Every year, 27 million hours are waited at border crossings. That costs the countries of the Western Balkans 300 million euros. We expect rapid implementation of this decision towards Northern Macedonia, Montenegro and BiH, and we have also raised the issue of green corridors with EU countries. In a month or two, we can expect results, because this issue is important for the economy and economic development," said Mihajlovic.