Mihajlovic with GREVIO Expert Group: Preventing violence against women is a priority of the Government of Serbia
Mon, 02-25-2019 - 12:27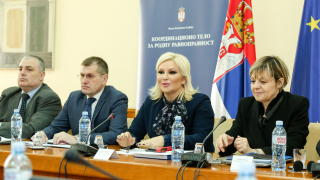 Deputy Prime Minister and president of the Coordination body for gender equality, prof. Zorana Mihajlovic PhD., said today on the visit of the GREVIO Expert Group, that Serbia is one of the first countries to ratify the Istanbul Convention and has achieved significant results in the fight against violence against women and that it expects further progress in the coming period in this area.
"I am proud of the fact that the Government of Serbia prepared the first report on the implementation of the Istanbul Convention, coordinated by the Coordinating Body for Gender Equality, and attended by more than 260 different organizations," Mihajlovic told reporters before the presentation of the first state report on implementation by the Republic of Serbia Istanbul Convention GREVIO Expert Group, which is in an Evaluation Visit.
 Mihajlovic pointed out that in the previous period much has been done to prevent violence against women since the adoption of the National Strategy for Preventing and Combating Domestic Violence against Women in families and Partner relations 2011-2015, the adoption of the Law on the Prevention of Domestic Violence, to the amendments of the Criminal Law.

 
"I expect that at the meeting with European experts we get clear guidelines, but also reflections on what Serbia has done well, and where improvements are still possible," she added.
GREVIO Group Vice President Simona Lanzoni said she is certain that the GREVIO expert group will successfully monitor and realize constructive cooperation with the institutions of the Republic of Serbia.

 
A member of the GREVIO Group in the Netherlands, Aleid van den Brink, said she was pleased that she had the opportunity to talk with representatives of state institutions in Serbia about combating violence against women and she believes that all collected information would find a place in the report.
Serbia is one of the first countries to ratify the Istanbul Convention in October 2013. By adopting this convention, Serbia has demonstrated its political readiness and commitment to establish a gender-based violence prevention system, to ensure comprehensive protection of victims and to punish perpetrators, applying the provisions of the Convention and ensuring standards in accordance with the best European practices.