Mihajlovic handed in the keys to first tenants of Zemun Gates
Tue, 12-25-2018 - 13:52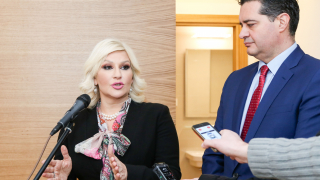 Deputy Prime Minister of Serbia and Minister of Construction, Transport and Infrastructure, prof. Zorana Mihajlovic PhD, visited today Zemun Gates regarding the completion of the construction of 323 apartments and on that occasion expressed the satisfaction that the first tenants will move in before the New Year.
Mihajlovic handed the keys of the apartments to citizens who were among the first to buy apartments in this complex, among them was also one of the winners of the apartment in the "Take a receipt and win" prize game. Deputy Prime Minister Mihajlovic said that the State was pleased to support the project of the Zemun Gates because it is a way for the construction sector in Serbia to develop.
"For the high GDP growth this year, the most deserving is the construction sector. Four years ago, the share of construction was less than 3 percent, today it is 5 percent and has the highest development of all other sectors. The State has joined and started investing in construction, and this is important because large scale jobs are ahead in this sector, " said Deputy Prime Minister.

 
Mihajlovic added that most of the construction materials for Zemun Gates were manufactured in Serbia and congratulated the Construction Directorate of Serbia on the quality of construction.
Nebojsa Surlan, the Director of the Serbian Construction Directorate, concluded that the first phase of construction was completed, a total of three buildings with 323 apartments, and by the end of 2020, there will be a total of 1,000 apartments built.
 "Thank you to the Ministry of Construction and Minister Zorana Mihajlović for cooperation. All necessary permits were issued in a record time. These three buildings should have been completed on March 1st, we completed them before the deadline and we are continuing to build other buildings, so that by the end of 2020 we will fulfill the goal, which is a thousand new apartments, "said Surlan.