Mihajlovic with the head of the DFC in Belgrade on infrastructure projects and women's entrepreneurship
Mon, 10-12-2020 - 13:56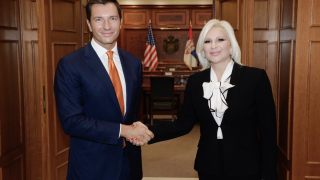 Deputy Prime Minister and Minister of Construction, Transport and Infrastructure, prof. Zorana Mihajlovic, PhD, met today with the head of the office of the American International Development Corporation (DFC) in Belgrade, John Jovanovic, and talked with him about cooperation on infrastructure projects, as well as support for women's entrepreneurship.

"We have an open and sincere cooperation with the American Development Fund. Today, we talked about the construction of the "highway of peace", which is important for connecting Belgrade and Pristina, but also about other important topics, such as investments in water transport and women's entrepreneurship. Ministry's team is here to contribute to regional connections and a better and safer life of our citizens through daily joint work with DFC. I am convinced that we will make good results," said Mihajlovic.

John Jovanovic said that today's meeting was useful, and that the focus was on large infrastructure projects in which DFC wants to invest.

"DFC is here to expand the financial resources available to the Government of Serbia and Pristina in infrastructure projects." We talked about the "highway of peace", but also other long-term projects, and we are ready to support great ideas, especially when it comes to women's entrepreneurship. This is just one of the first successful meetings we will have," said Jovanovic.