Mihajlovic is the head of the Investment Cooperation Group of Serbia and People's Republic of China
Wed, 04-24-2019 - 13:37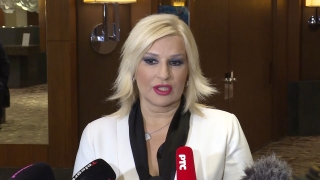 Deputy Prime Minister and Minister of Construction, Transport and Infrastructure, prof. Zorana Mihajlovic PhD., signed today Beijing Memorandum with the Ministry of Trade of the People's Republic of China on the establishment of a working group for investment cooperation.
 
"The investment group is a new body that will deal with the improvement of trade and economic relations between Serbia and the People's Republic of China and investments in various fields. In addition to infrastructure, this group will coordinate cooperation between the two countries in the fields of industry, finance, facilitating new investments, and regional investment cooperation. In addition to the joint realization of projects, we will look where we can appear together in different markets, "said Mihajlovic, who will chair the group on behalf of the Serbian side.
She said that only in the transport infrastructure total value of Serbia and PR China projects, current and planned, is about 7.5 billion euros, and reminded that Serbia is one of the first countries to sign a memorandum with PR China regarding the initiative "One belt, one way. "
 
"With the working group for investments, Serbia will, in some way, be the leader in the whole South East Europe on all projects, primarily in infrastructure, concerning the" One Belt, One Way "initiative. We were the first in the region to recognize the importance of this initiative, and the projects that we are working with PR China from the highway to Montenegro to Belgrade-Budapest highway are projects of regional importance, and they are also related to the global Chinese initiative "One belt, one way. " For Serbia, this means connecting with the region, creating new jobs, and better conditions for companies to come to Serbia, "Mihajlovic said.
Deputy Prime Minister is on an official visit to China as part of a state delegation led by Serbian President Aleksandar Vucic, who is taking part in the Second Forum "Belt and Road" in Beijing.