Mihajlovic: The health of workers comes first, there are no delays on large projects
Fri, 07-24-2020 - 10:10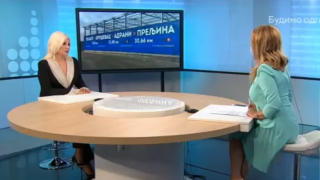 Deputy Prime Minister and Minister of Construction, Transport and Infrastructure, prof. Zorana Mihajlovic, PhD, said today that works are being carried out on all large construction sites of infrastructure projects in Serbia and that nearly 6,000 workers are currently working on them.

"We are working on large projects, such as the construction of Morava Corridor, highway Sremska Raca - Kuzmin, highway and expressway Ruma-Sabac-Loznica, section Preljina-Pozega, as well as dozens of other infrastructure construction sites in Serbia, such as road maintenance, which is being done throughout Serbia," said Mihajlovic, as a guest on RTS.

She said that she regularly discusses the situation on the construction sites with the contractors, and that she will have one meeting on the topic of performing works in the conditions of the COVID-19 epidemic next week. "The appeal to all construction companies is to take care that workers are safe, because that is the number one issue, in order to make the most of the construction season, which is important because of our economy and economic growth," she said.

Mihajlovic emphasized that there are currently a total of more than 60,000 active construction sites in Serbia, which is about 16,000 construction sites more than in the same period last year. "A larger number of active construction sites means that we have managed to create conditions for more work and construction in Serbia and to have the stability that is needed. "Every new construction site means more jobs, higher economic growth and a better life for the citizens," said Deputy Prime Minister.

Speaking about the situation in transport, Mihajlovic said that the whole world has a problem with passenger traffic, but that there are no obstacles for import, export or transit in freight traffic. "When we look at the number of trucks now compared to the same period last year, that number is almost identical, there are no delays at the borders, and the passage of trucks is regulated in the entire region so that traffic runs smoothly," she said.