Mihajlovic: High-speed railway line from Belgrade to Stara Pazova will be completed by the end of the year
Tue, 05-05-2020 - 15:27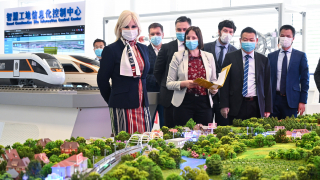 Deputy Prime Minister and Minister of Construction, Transport and Infrastructure, prof. Zorana Mihajlovic PhD, today visited with Hu Xiajun, Director General of Chinese Railways for Serbia, Belgrade-Budapest high-speed railway control system laboratory.
Mihajlovic emphasized that this laboratory is the brain of the future high-speed railway from Belgrade to Budapest.
"This is a state-of-the-art laboratory and a state-of-the-art location from which to operate the high-speed railway line. Today, there are 1,533 employees working from Belgrade to Stara Pazova and from Stara Pazova to Novi Sad. In July, the right track on the section to Stara Pazova will be completed by the end of the year and the entire section. And by the end of August next year, we will travel from Belgrade to Novi Sad by a high-speed train of 200 kilometers an hour," she said.
Mihajlovic thanked Chinese people for their assistance during corona virus epidemic and stressed that strong friendship, love between the two nations and partnership co-operate between Serbia and People's Republic of China.
She added that Serbia plans to build a high-speed railway line from Belgrade to Nis, and that she expects the implementation of those plans to start next year.
Hu Xiaojun thanked Deputy Prime Minister for her support and assistance in the implementation of this important project.
"This laboratory is characterized by sophisticated technology that meets all European standards. Before incorporating all the materials in the high-speed railway construction process, they will be tested in this lab,"he said.