Mihajlovic: Highway from Belgrade to Sarajevo for better future of the region
Fri, 12-13-2019 - 13:36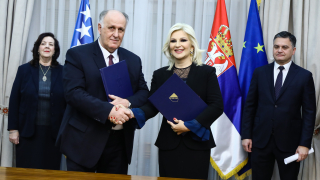 Deputy Prime Minister and Minister of Construction, Transport and Infrastructure, prof. Zorana Mihajlovic PhD, signed today with Deputy Minister of Telecommunications and Transport of Bosnia and Herzegovina, Sasa Dalipagic, an agreement between the Government of the Republic of Serbia and the Council of Ministers of Bosnia and Herzegovina on cooperation and implementation of Belgrade-Sarajevo highway project. Ambassador of Bosnia and Herzegovina to Serbia, Aida Smajic, also attended the signing of the agreement.

Mihajlovic emphasized that this agreement will contribute to the speed and efficiency of the construction of the highway to BAH and reminded that the start of works in October was marked in the presence of the President of Serbia and President of Turkey, Aleksandar Vucic and Tajip Erdogan, and representatives of BAH.
"The works on Sremska Raca - Kuzmin section are in accordance with the agreed schedule and dynamics. This is not just a highway, this is a road that connects the two countries and people who live in them, a road that should lead us to the future, not the past fraught with problems. This agreement will allow us to continue the works and issue a construction permit for the construction of the entire bridge over Sava River," she said.

Mihajlovic added that there will be one border crossing on the bridge over Sava River, and that this will enable faster flow of people and goods, which is also the policy of the President and the Government of Serbia.
Sasa Dalipagic pointed out that this agreement refers to the construction of two sections of the highway, one is Tuzla-Brcko-Bijeljina-border with Serbia and the other Sarajevo-Pale-Visegrad-border with Serbia and further towards Belgrade.

"The agreement also envisages construction of thr bridge over Sava River that Serbia will build, as well as the issue of border crossings. Within a month, we will form a joint operational body for the more efficient implementation of the project," Dalipagic said.

Ambassador of Bosnia and Herzegovina to Serbia, Aida Smajic, said major infrastructure projects show a clear commitment from the two countries on their path to the European Union.

"This highway will further connect our two countries and citizens. It is also an indicator that our bilateral relations are on the upward trajectory, and that European integration is our strategic goal, and that by better integration of the region, we will be ready to become full members of the EU," she said.