Mihajlovic: With Hungary on faster traffic flow at the borders
Fri, 03/15/2019 - 14:18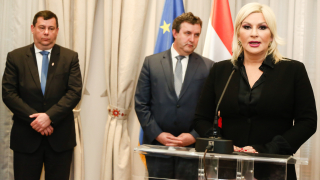 The construction of a fast track from Belgrade to Budapest, joint cooperation in the field of transport infrastructure, the removal of non-physical barriers at border crossings between Serbia and Hungary and the realization of projects in the field of water transport were the topics of today's meeting of the Serbian Deputy Prime Minister and Minister of Construction, Transport and Infrastructure, prof. Zorana Mihajlovic, and Minister of Innovation and Technology of Hungary, Laszlo Palkovich.

 
Deputy Prime Minister Mihajlovic said that Serbia and Hungary have excellent political and economic relations and that they are partners in one of the largest projects in this part of Europe, the construction of the Belgrade-Budapest fast track.

 
"Together we are implementing an extremely important project for our two countries and the construction of the fast track between Belgrade and Budapest was the first topic of the meeting. We also discussed the increase in the capacity of the ship's terminal on Tisa river, so that more ships could use this river, but also on the reconstruction and construction of Subotica-Segedin railroad, because this is in the interest of our citizens, "she said.
 

Mihajlovic said that the special topic of the meeting was to solve the problem of concealment and long retention of people and goods at the border crossings and stressed that with Minister Palkovics, it was agreed to establish a joint working group that would work to eliminate this problem and prepare the agreement of the two countries.
"Serbia has initiated talks with all its neighbors to solve the problem of non-physical barriers and to speed up the flow of traffic, both road and rail. When it comes to passenger railway traffic, we have to carry out border checks in the trains, and try to have a border point for freight traffic, "she said.

 
Laszlo Palkovics thanked Deputy Prime Minister Mihajlovic for his excellent cooperation and added that Hungarian side is very interested in solving the problem of waiting at the borders.

 
"It is unacceptable that a bus is waiting at the border for 12 hours to enter another country. We will work together to solve this. Today we talked about the reconstruction and construction of new railroads, the improvement of water transport, especially on Tisa River, and we paid special attention to the construction of Belgrade-Budapest highway, because this is of vital importance to the two countries, "Palkovics said.