Mihajlovic: I expect the new government to be even better and more efficient
Wed, 06-24-2020 - 10:15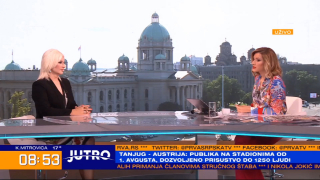 Deputy Prime Minister and Minister of Construction, Transport and Infrastructure, prof. Zorana Mihajlovic, phD, stated this morning, as a guest on TV Prva, that she expects the new government of Serbia to be even better and more efficient, with even more quality people in it.

"The government is primarily an operational body, it is the least political. And that is why it is important that it is made by high quality people, that it works quickly and efficiently. As for me, I love my job, I am doing it the same way as before. We are in the middle of the construction season, my day is the same as before, I try not to look at the front pages and to do my job the best way I can, and the results are what determine us," she said.

When asked about the composition of the new government, Mihajlovic said that the issue is far from today and that it is important to form a parliament first.

"If you ask me what kind of government I would like to see, it should be even better and more efficient, with even more educated, experienced and capable people. Whoever heads the ministry I am heading, I will suggest that it remains unique, because I know how connected these departments are and that this is the key to realizing projects faster and more efficiently. When we formed the government in 2014, Aleksandar Vucic made that decision and it proved to be excellent," said Mihajlovic.