Mihajlovic: Initiative for listing three Serbian rugs on UNESCO World Heritage List
Wed, 12-25-2019 - 14:36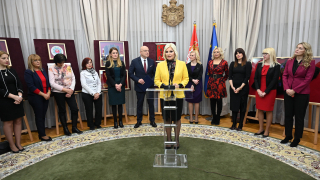 "Since 2017, when NALED and Etnomreza launched the Initiative "Let's employ 1,000 Women in Rural Areas", 698 of them are working on traditional handicrafts, demonstrating that not only are we safeguarding Serbian cultural heritage, we are contributing to the economic empowerment and employment of women from the countryside, bearing in mind that 50 percent of working-age rural women are formally unemployed," said Deputy Prime Minister and President of the Coordination Body for Gender Equality, prof. Zorana Mihajlovic PhD.

She, presenting Serbian Salon in the building of the Government of Serbia, together with the Minister of Culture and Information, Vladan Vukosavljevic, said that all officials who enter this salon look with great attention at everything Serbian women made and show great interest, with the traditional handicrafts they receive, to visit other parts of Serbia.
"In the meantime, together with NALED and the ambassadors of Germany and Canada, we have formally initiated an initiative for the Ethnographic Museum to be listed on the UNESCO World Heritage List by three kinds of carpets, Pirot, Stapar and Sjenicko-Pesterski. Also, it is important to get the Law on Crafts as an important legislative framework for the further development of this field, and next year we will work on establishing "guardians of tradition" institute in local governments in order to protect and properly present our cultural treasures in the country and the world", she said.

Mihajlovic congratulated all the women involved in the project "Let's employ 1,000 women", as well as the ministers who support the project.
Minister Vukosavljevic said that the state was actively working to promote the protection of cultural property and that in cooperation with the Ministry of Construction, Transport and Infrastructure, instructions were issued on the implementation of the provisions of the Law on Planning and Construction and the Law on Culture, which ensures respect for spatial and urban plans while preserving cultural and historical heritage.

"We have made some progress in protecting and presenting tangible and intangible cultural heritage, because it is in the interest of preserving our multicultural identity," he said.

Violeta Jovanovic, Chairwoman of Etnomreza Board of Directors, emphasized that the aim of these activities is to build cultural heritage, preserving cultural heritage and promoting economic empowerment of women.
"Serbian and Vojvodina salons contribute to the practice of cultural diplomacy - by donating traditional handicrafts to foreign officials, we are protecting our heritage, but also creating a source of income for women in the countryside. Thank you to the Deputy Prime Minister for tirelessly promoting our initiative and helping to get women from the countryside to work," Jovanovic said.

She added that it is important to introduce the institution of guardians of traditions and pass a law on crafts, but to continue to raise awareness of the importance of safeguarding national identity and sending a message of tolerance and multiculturalism.

Dusanka Golubovic, mayor of Sombor, said that thanks to the Deputy Prime Minister and NALED, Staparski rug was revitalized and that many women were trained in weaving, preserving Serbia's intangible cultural treasure.
Jovanka Siovljanski of Gorocvet Women's Association in Indjija said that many women had received training and learned all the techniques, and that this association was especially specialized in embroidery and gold-plating techniques. Their products have reached a number of statesmen, including Chinese President Xi Jinping, who received the royal belt.

The handicrafts of Serbian women from the countryside - gold alphabets, cloths and Serbian towels - have found their place with more than 100 diplomats. Russian President, Vladimir Putin, and French President, Emmanuel Macron, received Pirot carpets, Staparski carpet was given to Prince Charles, and a royal belt was made for Chinese President, Xi Jinping.