Mihajlovic: Instead of the flagpoles, count to 177, for so many places in the world we have progressed when it comes to a number of construction permits issued
Fri, 07-31-2020 - 11:36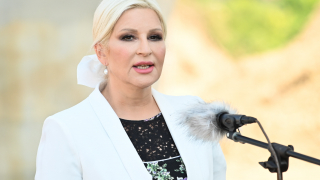 "I would like to tell everyone who questions the number of construction sites in Serbia to count to 177 instead of counting the poles, because Serbia has won so many countries and is better than so many countries in issuing construction permits." We were in 186th place, almost the last, and today we are 9th in the world thanks to the reform we have implemented in the construction sector by introducing electronic construction permits ", said today Deputy Prime Minister of Serbia and Minister of Construction, Transport and Infrastructure, Prof. Zorana Mihajlovic, PhD, visiting the construction site of Belgrade-Budapest high-speed railway.

Mihajlovic also said that the media are the best witnesses of everything we do in construction and infrastructure, because they were with us in Grdelica, Eastern fork of Corridor 10, on construction sites for apartments for security services, "Belgrade  Waterfront" and others.

"You can't help but see the cranes when you enter the city. And where there are construction sites, there are poles, the more construction sites, the more poles. Today we have 61,303 active construction sites, which is 16,000 more compared to the same period last year, while in 2014 we had 1,500. "Procedures are known, permits are issued electronically, none of us determines that," she said.

Mihajlovic added that thanks to construction, we have economic growth, and that the share of construction in GDP today is 5.6% compared to 3.2% in 2014, and that in the first quarter of this year, the value of works is higher by 24 %.

"This is data and this is the life we ​​live. It is clear how far we have progressed and international indicators show that. "Ten years ago, you couldn't even see a construction site like this, because there weren't any," she concluded.