Mihajlovic: Intercity traffic from next week
Mon, 04-27-2020 - 19:06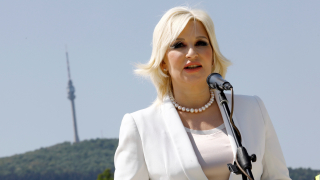 Deputy Prime Minister and Minister of Construction, Transport and Infrastructure prof. Zorana Mihajlovic PhD, said today that the state is slowly elevating the measures in line with the epidemiological situation and doctors' recommendations, adding that new measures will be taken step by step.
Asked to comment on the dynamics of traffic opening, Mihajlovic said that new measures would be introduced gradually.
"The danger has not yet passed, it is important that we show some more patience, and the measures will be elevated step by step, in coordination with cities and doctors, first intercity, then suburban and finally, city traffic," she said.
Mihajlovic said that as far as the readiness of the Serbian Government is concerned, everything is ready regarding the decisions and regulations that need to be made, but that the healthcare professionals should be asked.
"I expect the introduction of intercity traffic slowly next week. Regarding air traffic, Nikola Tesla airport was not closed at any moment, but there are no regular lines anywhere in Europe and in line with the epidemiological situation we will make new decisions.
First, let's see how newly imposed measures will affect the whole situation.
At this point, healthcare professionals are above politics," Mihajlovic concluded.