Mihajlovic: International freight traffic is vital, support for faster recovery of passenger transport
Fri, 04-24-2020 - 09:38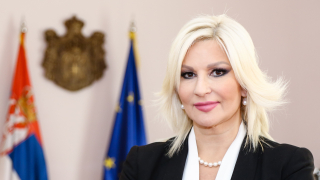 Deputy Prime Minister and Minister of Construction, Transport and Infrastructure, prof. Zorana Mihajlovic PhD, said today that the damage caused by corona virus pandemic in the transport sector is estimated at between 120 and 140 million euros, and that it is estimated to reach more than 700 million euros by the end of the year.

"Passenger traffic, especially air traffic, has suffered the most damage, and this is not just Air Serbia, but our airports as well. Air Serbia's losses so far amount to around 35 million euros, and as a state we will find a way to help that company because it is a vital link in our air traffic. During this crisis, it was also shown how important it is for us to have a national air carrier, since it has transported around 13,000 of our citizens since the emergency of Air Serbia," Mihajlovic said on a guest appearance on TV show on B92.
 
Deputy Prime Minister stressed that Serbia had done everything possible to enable faster transit traffic, which is vital for the supply of citizens of Serbia and the region. "Since mid-March, about 100,000 trucks have entered Serbia, of which about 60,000 have been supplied to Serbia. We were the first to abolish the police escort of trucks in transit, now the convoy has also been abolished by Croatia, and we hope that Slovenia will do the same soon," Mihajlovic said.
 
She added that road freight transport has seen a drop of about 20 percent, transportation of goods by rail about 10 to 15 percent, and that the greatest challenge will be the recovery of all types of passenger traffic.
 
"For example, about 1,500 passanger cruisers were supposed to come to Serbia this year, which had to be canceled. We will talk with the Ministry of Economy and the Ministry of Finance about ways to help the transport sector that deals with passenger traffic to get back on its feet as soon as possible," Mihajlovic said.