Mihajlovic: Investments in water transport half a billion euros
Thu, 05/30/2019 - 13:18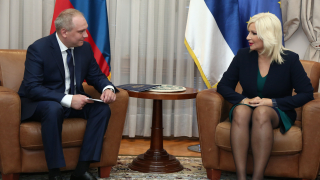 Deputy Prime Minister and Minister of Construction, Transport and Infrastructure, prof. Zorana Mihajlovic PhD., met today with Oleg Rjazancev, Deputy Minister of Industry and Trade of the Russian Federation, with whom she discussed the possibilities of cooperation in the field of water transport and shipbuilding.
Mihajlovic emphasized that the two countries have not only good bilateral and friendly relations, but also excellent cooperation on all infrastructure projects that they jointly implement.
 
"Serbia is developing rapidly, besides investments in road and rail transport, in the last two years we got water transport moving, in which we invest half a billion euros. We are proud of our tradition in shipbuilding and we want to develop cooperation with the Russian Federation in this area, which has not been invested in Serbia for decades, " said Mihajlovic.
Oleg Rjazancev said that the Russian Federation is ready to support Serbia in the development of shipbuilding and water transport.

"We are familiar with how much attention you devote to the development of shipbuilding and water transport. We are here to support, share our experiences and knowledge and develop our technologies in the territory of Serbia. I am sure that on today's business forum we will talk about concrete needs and optimal solutions, "he said.

Mihajlovic and Rjazancev will open a Business Forum between the Republic of Serbia and the Russian Federation today, which will bring together more than 60 companies.
After the meeting, Mihajlovic gave an alphabet in gold smith to the Russian colleague, the work of Serbian women from the rural areas, who, in the framework of the initiative "Let's Employ A Thousand Women in the Rural Areas" made by traditional Serbian handcraft makers. The "Thousand Women" Initiative was launched by the Coordination Body for Gender Equality, NALED and Ethno-Network.