Mihajlovic invited citizens to donate blood: Let's be humane, let's save lives
Fri, 07/12/2019 - 14:37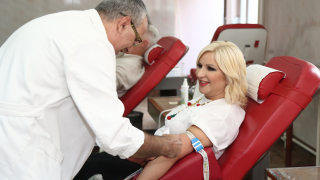 Deputy Prime Minister and Minister of Construction, Transport and Infrastructure prof. Zorana Mihajlovic PhD., together with her team of associates from the Ministry, joined the campaign of voluntary blood donation and sent an invitation to all citizens to be humane and give blood.
"There is no greater blessing in life than being healthy. In the sea of ​​obligations and problems we all have, we should not become indifferent to others. Let's be human, because by being human we bring good to ourselves and others. I invite all citizens of Serbia to respond to the action and donate blood, "s he said.
Mihajlovic added that if someone has a dilemma or feels lazy to go and give his/her blood, that one should think that one may need it tomorrow, that person or someone close to him.
"When human lives are concerned, there is no place for selfishness. Only if we care about each other can we go forward as a society. And everyone will be better, believe me, " she concluded.