Mihajlovic: It is recommended that outdoor construction sites work with maximum protection of workers
Tue, 03/17/2020 - 12:21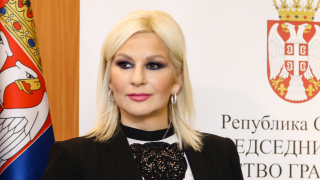 Deputy Prime Minister and Minister of Construction, Transport and Infrastructure, prof. Zorana Mihajlovic PhD, stated that protection of public health at the times of state emergency due to the spread of Corona virus is the most important priority of the state.
Being a guest on the morning program of TV Prva, Mihajlovic urged citizens over 65 not to leave their homes, and all citizens to respect the measures adopted by the Government of Serbia and the Ministry of Health.
Speaking about the functioning of traffic, transport and construction during the state of emergency, Mihajlovic emphasized that the recommendation of the Ministry is to carry out works on open-air construction sites wherever possible, with maximum protection of workers in accordance with the Government's recommendations.
"Today, we have about 2,700 workers hired at the seven largest infrastructure construction sites. Chinese companies are currently working on the bypass around Belgrade, US companies Bechtel and Enka are working on the construction of Morava corridor and we currently have no downtime. Our recommendation is that companies, if possible, allow other employees working indoors to work from home, "said Mihajlovic.
Deputy Prime Minister emphasized that international road transport to and through Serbia is functioning.
"Transport is difficult at the moment, but it is functioning. It is vital that goods transported by trucks are available to our citizens, as well as to citizens of the surrounding countries. We have released the international transport ban, with a time limit of 12 hours for road transit through Serbia, and we have agreed on this with our colleagues from the region so that all citizens can get the goods they need. When it comes to supplying Serbia, our drivers first arrive at the destination and then report to the sanitary inspectors," says Mihajlovic.
Speaking about citizens' travels, Mihajlovic pointed out that during the state of emergency, foreign nationals are not allowed to enter Serbia, while our citizens who come from countries where there is an outbreak of Corona virus will be quarantined for 28 days. It is a measure that applies at all border crossings, as well as at Belgrade and Nis airports.
"The 28-day quarantine goes to all our nationals coming from Switzerland, Italy, Iran, Romania, Spain, Germany, France, Austria, Slovenia and Greece. Our nationals coming from other countries will be in self-isolation for 14 days. It is important that one respects this because the more disciplined we are, the better everyone will be, "she stated.
Mihajlovic also said that on her way to TV Prva, she saw that there were far fewer people on the streets, but that there were still some who did not adhere to the measures adopted by the Government of Serbia.
"I appeal to our citizens that responsibility, discipline and solidarity are very important at this moment in order to easily get through this difficult time together. What is one month ahead of us compared to what is yet to come in our lives," Mihajlovic concluded.