Mihajlovic from Ivanjica to the citizens: We will repair and build everything that was destroyed in the floods
Tue, 07-07-2020 - 09:58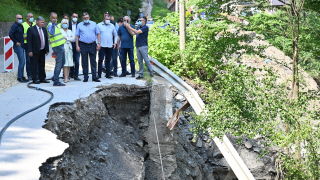 Deputy Prime Minister and Minister of Construction, Transport and Infrastructure, prof. Zorana Mihajlovic phD, visited Ivanjica today and with the mayor Zoran Lazovic, mayor of Moravicki district, Slobodan Jolovic, and the director of "Roads of Serbia" Zoran Drobnjak visited the landslide Buk and the state road Arilje-Ivanjica in Klisura, which was damaged in June floods.
Addressing the media, Mihajlovic said that the pictures from Ivanjica were dramatic and that this municipality suffered the most damage and had the most problems after June floods, but also that money was provided so that people would have basic living conditions, which are the road, communal infrastructure and drinking water.
"My message to all citizens is that everything that happens to us and that we suffer as damage, whether in the road or communal infrastructure, the state will solve, together with the local community and contractors. As the Minister of Transport, I can say that we will finish everything in the next few months. First, we will do projects in the next month and a half, and then we will realize them. We will finance everything from the state budget because we are aware that local governments do not have enough money to maintain roads, let alone when such situation occurs. "We will inspect everything, including the two bridges in Ivanjica, and together with "Roads of Serbia", we will fix everything," she said.
Mihajlovic also said that Moravicki district had the largest investments in road infrastructure in the past few years.
"We have invested 6.5 billion dinars in road maintenance alone. We have also started works on one of the most difficult sections of Preljina-Pozega, work will also be done towards Montenegro ", she announced.
The head of the district, Slobodan Jolovic, thanked the president of Serbia and the government for everything they do for Moravicki district.
"So far, over a billion euros have been invested in the territory of Moravicki district. First of all, it is a network of highways that leads from Cacak to Belgrade, Krusevac, Nis, Greece and Bulgaria, but also to Boljare, that is Montenegro. There are regular investments in the construction and maintenance of local roads. The damage we have suffered from natural disasters since 2014, we would not be able to compensate without the help of the state ", said Jolovic.
Zoran Drobnjak stated that a list has been made with the municipality and that 26 locations should be arranged.
"It is a matter of great value, around 980 million dinars, and we will start working immediately. We will look to do as much as possible by the end of this year, and the rest at the beginning of next year, " he said.
The president of Ivanjica municipality, Zoran Lazovic, said that the state takes care of all local self-governments.
"The municipality has suffered great damage. I thank the Deputy Prime Minister for the visit and I believe that this time we will receive significant help as we have had so far," said Lazovic.