Mihajlovic in Kikinda: Next year RSD 4.3 billion for infrastructure projects
Tue, 12-24-2019 - 10:01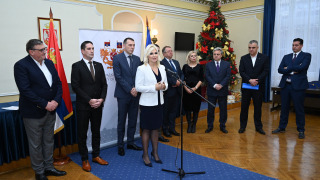 Deputy Prime Minister and Minister of Construction, Transport and Infrastructure, prof. Zorana Mihajlovic PhD, visited Kikinda today and discussed with the Head of North Banat District, Nikola Lukac, and the presidents of local self-governments, the investments in infrastructure projects important for this district.

Mihajlovic pointed out that investments in infrastructure of the North Banat District will amount to 4.3 billion dinars in 2020, and that 1.3 billion dinars have been invested in the maintenance of road infrastructure in the last three years.
"Budget of the Republic of Serbia today is stable and we can negotiate with the mayors and presidents of municipalities, what the priorities are and fund projects in the areas of road, rail, communal, but also water and air infrastructure. Because it is a condition for people to stay in their cities and to attract new investments," she said.

Mihajlovic added that Sombor-Kikinda highway will operate as well as the continuation of the fast railway track from Novi Sad to Subotica, which are important capital projects, without which there is no local development.

"Also on Friday, we will release Epsilon fork for traffic, with a total length of 24 km, a long-awaited project," she concluded.
Head of North Banat District, Nikola Lukac, said that at today's meeting, each local government had the opportunity to present its problems and priorities, primarily in road and communal infrastructure.

"The realization of a large number of projects has been agreed on, some of the key roads are Kikinda - Mokrin - Crna Bara - Coka, Kikinda - Rusko Selo, Senta and Kanjiza bypasses, as well as the reconstruction of Tisa bridge and the reconstruction of Senta-Subotica railway," said Lukac.

Mayor of Kikinda, Pavle Markov, added that the meeting agreed on the implementation of the project of connecting this city to the highway, that is, constructing a road from Kikinda to Zrenjanin.
"In the past few years, city of Kikinda has been engaged in projects and a strategy for the development of the city. We have ready-made projects and with today's meeting we have further initiated the course of further development of Kikinda. In addition to road infrastructure, we will solve the problem of drinking water in villages," Pavlov said.

Before meeting with representatives of North Banat District, Mihajlovic visited the newly constructed roundabout and said that it is important both for traffic safety and for the future industrial zone in Kikinda, without which we cannot speak about further development of the city.