Mihajlovic: Krusevac for two, and Kraljevo for three years connected to the highway
Mon, 12-16-2019 - 13:26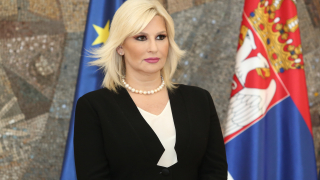 "This year is very important for Serbia in infrastructure - we count 350 kilometers of highways that we have released for traffic. Yesterday we marked the beginning of the construction of Morava Corridor, the first digital, modern highway that will connect Serbia with Serbia," said Deputy Prime Minister and Minister of Construction, Transport and Infrastructure, prof. Zorana Mihajlovic PhD.

She emphasized that it is important for us to build highways, as they mean new investments and a better life for our citizens.

"You couldn't see that in 2012. We found unfinished projects, there were no works. Today, we are allocating € 150 million from the budget of the Republic of Serbia for Morava Corridor, which we could only dream of in 2012. This will be a modern highway, as every kilometer we have released for traffic was according to all world standards," she said.

Mihajlovic reminded that the project of construction of Morava corridor involves regulation of the course of West Morava river, as well as the first digital corridor, which implies that drivers will have all the necessary information upon entering the highway, from weather conditions, to where the traffic jams are and more.

"The city of Krusevac, where we started our work yesterday, has completed the expropriation. In two years it will be connected to Corridor 10, we will connect Kraljevo in three years, and the entire highway will be completed in four years. It will never happen again that we are building for 10, 20 or 40 years," Mihajlovic concluded.