Mihajlovic: The law to win on Pancic's Peak and on the streets of Belgrade
Tue, 10/15/2019 - 10:52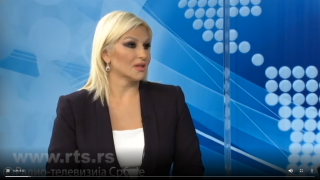 Deputy Prime Minister of Serbian and Minister of Construction, Transport and Infrastructure, prof. Zorana Mihajlovic, PhD, called out once again for the Law on Carriage of Passengers in Road Traffic to be respected and followed and apologized to the citizens for they were suffering from street blockades, even though there are many others who should be saying sorry and whose job it is to enforce the law.
"The law on carriage of passengers must be obeyed and must be obeyed by taxi drivers, and CarGo, who needs to be registered, as well as local governments that must do their jobs and enforce the law. It is not the Ministry of Transport that is implementing the law; it must be implemented by local self-government units, municipal police, police, Ministry of State Administration and Local Self-Government and other competent institutions. Although many whose job it is to enforce the law should apologize to citizens, I apologize to them both on behalf of the Government and on behalf of local governments that do not enforce the law," Mihajlovic said on RTS morning news.
Deputy Prime Minister said that no one minded to sit down and discuss amendments to the Road Transport Law, but that the law in force must be respected. "If there are any holes, let's see what they are and how to fix them so that no one suffers, and above all citizens. But by then, the law is clear and until it is changed, it must be obeyed. Today, we have a company called CarGo, because of which citizens do not know who drives them when they enter, and this must be known for safety in public transport," Mihajlovic said.

"The law must win in the case of the facility at Pancic's peak as well as in the case of taxi transportation in Belgrade," she stressed.
When asked about the demolition of the illegal building on Pancic's peak on mountain Kopaonik, Mihajlovic said that the Ministry had no information that the building on Pancevic's peak was being demolished and that the investors did not inform the Ministry when they built the facility in the first place, so it is not surprising that they did not inform now if they started to tear it down.

"The ministry has been fully consistent in law enforcement and has ruled on demolition last year. What we warn all those who are constructing illegally is that it is cheaper for them to demolish an illegal object on their own than to be demolished by the state and to pay them afterwards, because it is certain that illegal structures cannot survive," Mihajlovic said, adding that the cost of demolishing the building at Pancic's Peak would be around € 230,000.