Mihajlovic: Let's be responsible and in solidarity because this will take time, transport is a priority
Thu, 03/19/2020 - 09:52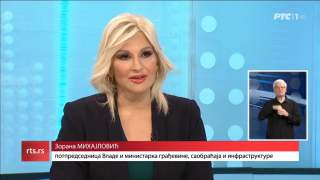 "Public health of the citizens of Serbia is in the first place, at the same time we care about the economy and the day after. The system is functioning, I call once again for discipline, patience and solidarity, that we all contribute together to minimize the spread of the virus, as this situation will last," said Deputy Prime Minister and Minister of Construction, Transport and Infrastructure, prof. Zorana Mihajlovic PhD.
This morning for RTS morning news, Mihajlovic said that her priority is for transport to operate to and through Serbia during times of general restrictions on movement so that our citizens are provided with everything they need.
"Freight traffic in the territory of Serbia is functioning, difficult, but every day certain progress is made. Yesterday, 3,507 trucks entered Serbia, of which 1,500 for the supply of our country, while three days ago there were only 900 in total. I am in a constant communication with all colleagues from the region in order to ensure that transport works, because the supply of citizens is of vital interest," said Mihajlovic.
She emphasized that truck drivers go through all control measures, that drivers in transit through Serbia have 12 hours to leave our territory, while our drivers as soon as they unload the truck go to isolation until the next trip. Mihajlovic also pointed out that there are huge crowds at the borders when it comes to passenger traffic.
"Last night we saw a 30 km long queue at Batrovci broder crossing. For weeks, President Aleksandar Vucic and the Government of Serbia have been asking our citizens living abroad to refrain from traveling during this period. We cannot forbid them from entering their country, but they need to know that they will be quarantined for 24 to 28 days. On the other hand, foreigners are prohibited from entering our country," she said.
Mihajlovic also said that air traffic was restrained in order to minimize the spread of the virus, while domestic traffic in Serbia is functioning, but with changes due to the introduction of a movement ban from 8pm to 5am.
"The eventual abolition of internal traffic and the suspension of urban transport will be a decision that will be made in accordance with the recommendations of the professionals and the crisis staff," she added.
Deouty Prime Minister Mihajlovic also referred to construction and pointed out that about 2,700 workers are employed at seven construction sites in Serbia.
"The recommendation of the Ministry is to work on open-air construction sites, respecting all safety measures. We have to think about the day after, which means that while public health is the highest priority we need to take care of the economy at the same time," Mihajlovic concluded.