Mihajlovic: Let's encourage women to become involved in the transport sector
Fri, 09/13/2019 - 13:08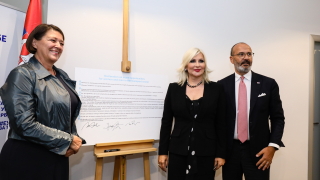 Deputy Prime Minister and Minister of Construction, Transport and Infrastructure, prof. Zorana Mihajlovic PhD., European Commissioner for Transport, Violeta Bulc and Head of the EU Delegation to Serbia, Sem Fabrizi, signed the Declaration on Equal Opportunities for Women and Men in Transport Sector today. "Gender equality and greater inclusion of women in all spheres of society, including transport sector we are talking about today, is a matter of great importance to the Government of Serbia. Our task is to create the conditions and encourage women to become involved in the transport sector," Mihajlovic said.
Deputy Prime Minister, who chairs the Coordination Body for Gender Equality, said, at the opening of the roundtable on "Women in Transport", that Serbia had done a lot in the field of promoting gender equality, but that there was more work ahead of us, thanked the European Union for the support it provides not only in infrastructure projects but also in gender equality.


"As we are the only non-EU country to have a Gender Equality Index, we also want to show in the transport sector that there is enough room for more women to join. This topic is important to us not only because of the gender balance, but also for the economic development of the country. I expect that we will soon receive a new law on gender equality, but also to work more locally, to create conditions for women to be a part of this area," said Mihajlovic.
European Commissioner, Violeta Bulc, said she was pleased that the day before the opening of the Transport Community Secretariat in Belgrade, we could discuss an important topic such as the position of women in the transport sector.

"This is an important topic for the prosperity of a society. In the last four years, EU has implemented a lot of activities aimed at promoting gender equality, and today we have 40% of women in leadership positions. There is no reason why there are no more women in transport sector, which is very prosperous, rapidly developing and generating many new jobs. We have to work together to create a level playing field for both sexes," said Bulc.

Sem Fabrizi emphasized that gender equality is at the core of EU public policy.

"For the first time, we will have 13 female members of the European Commission, as well as EC President. Although the transport sector is still predominantly male, things are changing. An excellent example is Deputy Prime Minister and Commissioner Bulc, who are currently leading the transport sector," Fabrizi said.