Mihajlovic: "Little Schengen" to "Free Balkans"!
Fri, 10-11-2019 - 09:12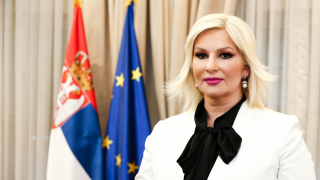 Deputy Prime Minister of Serbia prof. Zorana Mihajlovic PhD., welcomed the signing of the Joint Declaration on Free Movement of Goods and Citizens between Albania, Northern Macedonia and Serbia, initiated by President of the Republic of Serbia, Aleksandar Vucic.

"The declaration of the establishment of the so-called Little Schengen, which is based on the fundamental values of the EU on freedom of movement of capital, goods, services and people, is proof that Albania, Northern Macedonia and Serbia are an inalienable part of a united Europe, which is the goal of all Western Balkan countries," Mihajlovic said.
She stressed that "Little Schengen" is not substitute for EU membership, that it is not the creation of a new SFRY or a shortcut to the implementation of nationalist projects in the Balkans.

"The primary objective of "Little Schengen" is economy, security and a better life for citizens, the aim is 'Free Balkans', in which people will be able to move freely, work, stay in these areas and decide on their future and that we do not want to sit and wait for the EU to reform in order to continue the enlargement policy, but also that we do not want to enter the EU as a problem, but as carriers of new solutions," said Mihajlovic, who expects other Western Balkans countries to join this initiative.
She is convinced that at the next meetings with Prime Minister of Northern Macedonia in Ohrid and Prime Minister of Albania, Edi Rama, in Tirana, there will be concrete proposals for the easier and better life of our citizens.

"Possibilities are limitless. We would have a single market where there would be no waiting for goods or people at the borders. Citizens would travel with ID, roaming would be completely abolished, tolls would be paid with a unique tag. A single labor market would open up opportunities for private initiative and business to find new ways to connect," states Mihajlovic.