Mihajlovic: "Little Schengen" made of Albania, Northern Macedonia and Serbia for the better life of all our citizens
Fri, 09-27-2019 - 12:07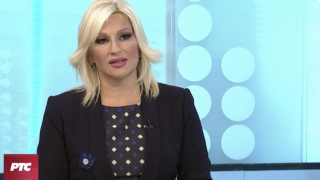 "The initiative of the President of the Republic of Serbia, Aleksandar Vucic, to create the so-called Little Schengen Zone of Albania, Northern Macedonia and Serbia means a better life for all our citizens. There is no modern development if we look at our relations with the eyes of the past," said Deputy Prime Minister and Minister of Construction, Transport and Infrastructure, prof. Zorana Mihajlovic PhD for the morning news on RTS.
 
She emphasized that all the countries in the region are very small to influence the economic indicators in Europe and the world, and that economic association is important in order for our citizens to live better.
"We are not talking about a new Yugoslavia here; it is a pure economic interest for all countries - to remove customs and trade barriers. This is the essence of policymaking, to make citizens live better, to have as much investment as possible and to improve the standard of living of all our citizens. We have an excellent geo-strategic position and it is important for Serbia to have access to Greece and Albanian ports," she said.

Deputy Prime Minister also said that Serbia, Northern Macedonia and Albania together have $ 80 billion in gross domestic product, which is very small.

"If we add Montenegro and B&H, that is $100 billion. You know what that means, that together we produce 40 times less than Germany and 30 times less than France. It was not Volkswagen that chose Turkey instead of us because we don't work here, but because Turkey has five times the GDP of the entire region. Serbia has all the assumptions that it is developing economically and regional integration is of economic importance to us," she said.
Mihajlovic emphasized that this is best seen in infrastructure, citing the Transport Community headquarters in Belgrade as an example.

"We have the support of the European Union. We do not need to close, we will be stronger and stronger by connecting and it will be easier to negotiate with both the EU and investors. When it comes to the resor that I run, there is no reason, for example, not to have a common tag and a common toll, and we will discuss this with our neighbors," said Deputy Prime Minister Mihajlovic.

She also recalled that estimates by the World Bank and IMF that indicated that regional integration would lead to economic development, which could amount to at least three to four percent more next year.