Mihajlovic: Maintenance of roads at the beginning of the season, and not as before, in August
Thu, 05-07-2020 - 11:39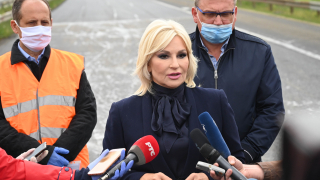 Deputy Prime Minister and Minister of Construction, Transport and Infrastructure, prof. Zorana Mihajlovic PhD, visited today the works on the rehabilitation of the section of Belgrade-Nis highway, between Pojate and Razanj.

Mihajlovic said on this occasion that this is the first time that road maintenance works started at the beginning of the construction season and that there is no reason to start with it in July and August, ie. in the height of the summer season.

"Currently, the highway is being rehabilitated in three places, it is important that we prepare everything for the traffic, which we believe will be more, in the coming months." To date, 4,200 workers have been engaged in the largest infrastructure projects in Serbia," she said.

Mihajlovic added that 4.8 million cars were recorded on highways in March and April this year, which is four million less than last year at the same time.

"We are recording a drop in the volume of traffic of 60 percent, and it is estimated that the drop in revenue will amount to around 30 million euros." Road traffic damage is around half a billion euros by the end of the year. "On the other hand, we are determined not to reduce the money for road maintenance, nor will they suffer anything in the construction of new and rehabilitation of the existing road network," she said.

Zoran Drobnjak, director of the PE "Roads of Serbia", said that this year the rehabilitation of about 200 km of highways worth about five billion dinars will be done.

"Thanks to the Government of Serbia and the Ministry of Transport, we have received funds for the maintenance and rehabilitation of motorway sections. It will operate near Subotica, around Nis and Doljevac, Merosina. On this section, we are doing rehabilitation in the length of 13 km and worth about 350 million dinars, it will be finished at the end of May. It has not been worked on for over 25 years," he said.