Mihajlovic in Majdanpek: From Monday, a passable road to Zagubica
Mon, 07-13-2020 - 11:32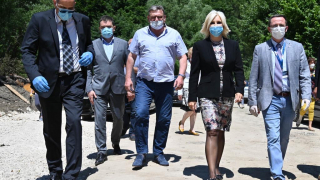 Deputy Prime Minister and Minister of Construction, Transport and Infrastructure, Prof. Zorana Mihajlovic, phD, visited Majdanpek today and the rehabilitated road Kucevo-Majdanpek as well as bridge Debeli Lug, which collapsed in June floods, with the mayor, Dragan Popovic, the Head of Bor district, Vladimir Stankovic and the director of PE "Roads of Serbia" Zoran Drobnjak.
On this occasion, Mihajlovic said that today it is much more interesting to talk about corona and protests, but that it must also be done, and that the construction workers have been working tirelessly since the very beginning of the construction season.
"Sometimes we tame nature with what we do, but sometimes we can't influence what nature brings us. And nature brought us great damage in June floods in several districts in Serbia. It is important for all citizens to know that the Government of Serbia and this ministry, together with "Roads of Serbia", will repair all the damage, do everything destroyed and all that must be done by the end of the construction season. From Monday, the road to Zagubica will be passable. "We will repair this bridge in two and a half to three months at the latest, in addition to the deviation that citizens will be able to use from Monday," she said.
Mihajlovic told the citizens that the state is there and that it works together with the local self-government, and that it will not allow people to be cut off so that they cannot function normally.
"Fast roads that will start to be built next year are also important for this area. This year, we are working on project-technical documentation for 350 km of fast roads, the value of these projects is around 1.5 billion euros. These are Pozarevac, Veliko Gradiste, Golubac, Donji Milanovac, Brza Palanka, Kladovo, but also Paracin, Zajecar and Negotin. There is no survival of life nor economy if people do not have infrastructure - communal, traffic or energy. We will finish everything, be calm, the state is here for you ", she concluded.
The head of Bor district, Vladimir Stankovic, said that the state had invested over 10 and a half billion dinars in various infrastructure projects in this district in the past year and a half.
"The government and the relevant ministry have excellent cooperation with all districts and local governments. We cannot predict nature, but today we are witnessing the initiative of the Ministry, which came to help our district and Majdanpek. Thank you for your help," he said.
The president of the municipality, Dragan Popovic, stated that the damage financed by the Ministry and PE "Roads of Serbia" is being repaired.
"We expect that everything will be over soon and we have no doubt about that because we have excellent cooperation, which has been shown in all previous years. After 50 years, 26 km of the road to Kucevo was completely rehabilitated. Other local roads are being built, with the huge help of the Government and the Ministry ", said Popovic.
Zoran Drobnjak stated that a lot has been invested in this part of Serbia and that "Roads of Serbia", together with the Government, will continue further investments, and solve the problems that appear in a timely manner as before.