Mihajlovic: By March next year, the first 4000 apartments for security services, an appeal to everyone to respect precautionary measures
Wed, 07-29-2020 - 12:16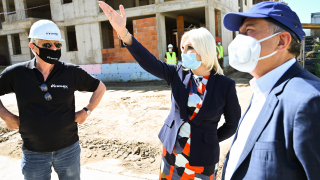 Deputy Prime Minister and Minister of Construction, Transport and Infrastructure, prof. Zorana Mihajlovic, PhD, visited today with Acting Director of the Construction Directorate of Serbia, Mirko Petrovic, construction site for the construction of apartments for members of the security services in Sremska Mitrovica.

On this occasion, Mihajlovic pointed out that 4000 apartments are currently being built in Serbia, which will be ready by March next year.

"It is currently being built in Belgrade, Novi Sad, Kraljevo, Kragujevac, Nis and Stemska Mitrovica. "In addition, in the next few months, the construction of another 4000 apartments will begin, which must be completed within a year from the beginning of construction," she said.

Mihajlovic said that 190 apartments are being built in Sremska Mitrovica, and on this occasion she appealed to all contractors and workers to respect security measures.

"I saw today that some workers do not wear helmets. "I appeal to everyone not to wait for the inspection, but to protect the workers, because one second of inattention can mean a loss of life," she said.