Mihajlovic meets with new ambassador of Great Britain: Infrastructure is the key to Serbia's development, support from the British government
Thu, 09-26-2019 - 14:44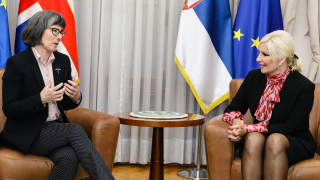 Infrastructure projects in road and rail transport, improvement of the business environment and Serbia's position on the World Bank's Doing Business List, as well as gender equality and social inclusion of Roma in society were the topics of today's meeting of the Deputy Prime Minister of Serbia, prof. Zorana Mihajlovic PhD., with the newly appointed Ambassador of Great Britain to Serbia, Sian MacLeod.

Deputy Prime Minister Mihajlovic welcomed the new British Ambassador, emphasizing the excellent cooperation between the Ministry and the Embassy.

"As you are aware, the ministry I have at the forefront has a huge portfolio. Serbia is launching a new investment cycle and more than 80 percent is related to capital investments in infrastructure.
Our strategic goal is to be a link between East and West and to connect with the region. This is why we are starting to build several new highways, one of which is the Moravian Corridor, which involves the best financial organizations, such as the UK Fund. We are also investing a lot in the railway sector, and at the same time we are working on improving the business environment, in which your government helps us a lot," Mihajlovic said.
The UK Ambassador said that there were many opportunities for cooperation to be further strengthened and enhanced and that she would be committed to this in her mandate.

"The areas you lead are crucial to the further economic development, stability and future of Serbia and the region. We are pleased to be able to contribute to this, both when we talk about the Doing Business List and in the infrastructure projects we are a part of. We are here to continue to support and assist you, primarily through the Good Governance Fund of Great Britain, " MacLeod said.

At the meeting, the promotion of gender equality, as well as the position of the Roma community in Serbia have also been discussed.

Ambassador MacLeod praised the results achieved in advancing the position of women in our country, saying that she would be happy to support projects in this area. The UK Government's Good Governance Fund will fund the project "Gender Responsible Governance", which aims to advance public policies and gender principles, in order to change gender stereotypes and improve the economic position of women.