Mihajlovic to the members of security forces: You who take care of Serbia, now it's Serbia's turn to take care of you!
Wed, 08/07/2019 - 14:00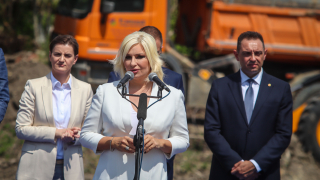 "Today, in Novi Sad, we are starting to build apartments for soldiers, police officers and security forces, for you who care about Serbia and guard our country, it is now Serbia's turn to take care of you. This is not just a new home for you and your families, this is our way of saying thank you for everything you have done and do for our citizens and our Serbia, "said Deputy Prime Minister and Minister of Construction, Transport and Infrastructure, prof. Zorana Mihajlovic, PhD, on the occasion of laying the foundation stone for apartments for members of the security forces in Novi Sad.

Mihajlovic emphasized that she is especially proud, as the resor minister, that the apartments are built by local construction companies and that the domestic materials and products will be used.
"This is important for our construction industry and economy. And I am especially proud that we are building these apartments together, working for each other, achieving success and making Serbia stronger," she said.
Ana Brnabic, Prime Minister of Serbia, thanked members of the security services for putting their lives in danger while protecting the lives of Serbian citizens, and added that after Nis, Vranje, Kraljevo and Kragujevac, Novi Sad is the fifth city where construction of these apartments begins.

"This project is also about how much emphasis we put on the construction industry and I want to thank local companies that will build the apartments. Thanks to the reforms we have been implementing since 2014, we have the money to invest in projects like this. Our politics is politics of work, not just words, " she said.
Nebojsa Stefanovic, Deputy Prime Minister and Minister of interior affairs, said that thanks to President Vucic's initiative, a project has been launched to provide affordable housing for those who risk their lives protecting Serbia.
"We have acquired new uniforms, new vehicles, increased salaries and now ensure that you buy affordable apartments. Thank you for all that you have done and what you will do for your country," Stefanovic said.

Igor Mirovic, Prime Minister of the Provincial Government, pointed out that 542 apartments will be built in Novi Sad for members of the security forces, and he is looking forward to construction of such apartments in Sremska Mitrovica soon.

"This is extremely important for the development of the construction industry, but also for the overall economic development of the country," he added.

Mayor of Novi Sad, Milos Vucevic, said that in this city there will be a new modern neighborhood with quality apartments and pleasant living conditions.

"We will also build a kindergarten, a new elementary school and an athletic center in this neighborhood. We are pleased that as a city we are able to partner up with our country on such an important project," he said.