Mihajlovic: Morava Corridor - investment in the future of citizens of Serbia
Mon, 12-16-2019 - 09:23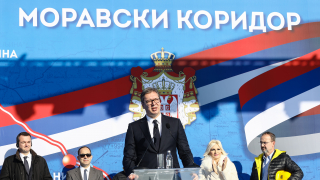 Deputy Prime Minister and Minister of Construction, Transport and Infrastructure, prof. Zorana Mihajlovic PhD, today, together with the President of the Republic of Serbia, Aleksandar Vucic, attended the commencement of construction of Morava Corridor, a 112.3-kilometer highway that will connect Pojate and Preljina.

"Morava corridor is the fourth highway which we are starting this year, and the first to connect East and West of Central Serbia, Corridor 10 with Highway Milos the Great. This project is strategically important for Serbia because it will mean a great deal to the 500,000 people it connects directly to, for faster development of the cities and municipalities it passes through, including Krusevac, Trstenik, Vrnjacka Banja, Kraljevo, Cacak, for more than 20.00 companies operating in this area, but also for new investors who can expect that there will be a highway here as well," Mihajlovic said.
She adds that the construction of Morava corridor will make the journey through Central Serbia not only shorter but also safer. "It will take about an hour and a half, from Belgrade to Vrnjacka Banja, in a little over an hour to Kraljevo, in a little over hour and a half to Krusevac. Nothing is out of reach and won't be far away, "Mihajlovic emphasized.

Deputy Prime Minister added that Morava corridor not only means that this part of Serbia will get a highway for the first time, it will also be a digital corridor, but also a solution to flood problems, as river regulation will also be done. "It is important as well that we are well prepared in this project and that we have one of the largest companies in the world, American "Bechtel ", as a strategic partner, which will work together with Turkey's Enka and our companies. It shows that we have learned something from previous projects and that we do not want to repeat mistakes, for example from Corridor 10, where we had inherited bad projects," she stated.
With commercial agreement, the cost of construction of 112.3 km of highway has been agreed on € 745 million. Additional work and direct and indirect material costs of 20 percent are also foreseen.

Morava Corridor construction project envisages that in two years Krusevac will be connected to Corridor 10 by motorway, in less than three years Kraljevo and Cacak will be connected by road with "Milos the Great" and that the complete project be completed in four years.

A total of 11 loops and 130 other structures will be built along the highway, of which 71 are bridges, 23 overpasses, 5 underpasses and 31 culverts.