Mihajlovic: Moravian corridor is an example of how big projects are being implemented in Serbia
Tue, 12-10-2019 - 15:49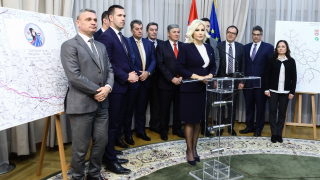 Deputy Prime Minister and Minister of Construction, Transport and Infrastructure, prof. Zorana Mihajlovic PhD, said today that Moravian Corridor is a project of investments into the future of Serbia and that it should be an example of how a large infrastructure project in Serbia can be successfully implemented.

Mihajlovic told reporters after meeting with the mayors and presidents of
municipalities through which Moravian corridor is passing, connecting districts with the highway, that today the first joint agreement was made regarding this project, which will connect more than 700,000 people in three districts through which he goes through.
"We expect to connect Krusevac with Corridor 10 in two years, Kraljevo with highway Milos the Great in about three years, and in four years the entire highway from Pojate to Preljina to be completed. We know how many problems we have had on some previous projects, and therefore we do not want to repeat these mistakes, but rather that this should be an example of how a large project in Serbia should be implemented," Mihajlovic said.

The director of Moravian Corridor project, Andy Millunzi of Bechtel, said that the company is proud to have been selected to carry out this project and to expect teamwork and efficient highway construction that is very important for Serbian citizens
Enka board member, Ozger Inal, said the contractor, Bechtel-Enka consortium, would do everything possible to get the project done within the agreed budget and deadline.

Branislav Vesic, Head of Rasina District, said City of Krusevac would be a good host and would provide all support to contractors, and that the construction of Moravian Corridor would contribute to increased employment and faster economic development.

Mayor of Raska District, Nebojsa Simovic, said that mayors of the district will take responsibility and lead smaller teams that will work on the project implementation.
Mayor of Moravian District, Slobodan Jolovic, said that with the construction of Moravian Corridor, Moravicki District and the town of Cacak became much better connected and that Cacak became the third traffic hub in Serbia.

Mayor of Krusevac, Jasmina Palurovic, said the construction of Moravian Corridor is a dream come true for the citizens of Krusevac and hopes that all work will go according to plan.
The meeting was also attended by the mayors of Cacak and Kraljevo, as well as the mayors of the municipalities of Cicevac, Varvarin, Trstenik and Vrnjacka Banja.

The length of Pojate-Preljina highway is 112.32 kilometers and the maximum allowed speed on this highway is 130 kilometers per hour. It is planned to build a total of 11 loops and 130 more structures on the motorway route, of which 71 bridges, 23 overpasses, five underpasses and 31 culverts.