Mihajlovic: Networking of railways and highways is the essence of Serbia's transport development
Mon, 09/30/2019 - 13:10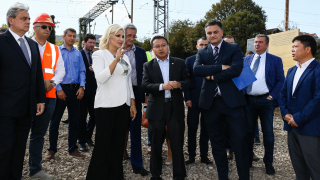 Deputy Prime Minister and Minister of Construction, Transport and Infrastructure, prof. Zorana Mihajlovic PhD, today toured the reconstruction of Jajinci - Mala Krsna railway and the construction of a section of Belgrade bypass from Ostruznica to Bubanj Potok, and emphasized that this is the way Serbia is developing today - by connecting different types of traffic.

Mihajlovic said that until 2014, no investments were made in Serbian railways, and that today they are a strategic commitment of the Government.

"As we have completed Road Corridor 10, we are also working on rail, because our goal is to bring back traffic, especially cargo traffic, to our railway tracks. Serbia is the shortest route between East and West and 350 km shorter than going on Corridor 4. It is a shame that it had not been invested in railways decades ago," she said.
Deputy Prime Minister added that it is vital for the development of Serbia to connect different types of traffic.

"We put the railways back on the map of Europe, as we do with the road corridors. In road transport with 37 million vehicles in 2014, we will have 60 million more vehicles through our country by the end of this year," she said.

Miroljub Jeftic, director of Infrastructure of the Railway of Serbia, said the value of the works on Jajinci - Mala Krsna section was 39.2 million euros.
"We will reconstruct the 55 km long railway line, along with 13 km of railway tracks and build a new station in Mala Krsna. The project also involves the construction of six stops, three tunnels and two bridges. Thank you to the resor ministry for its efforts to provide funding for our railways to be part of Europe," he said.

Slavoljub Tubic, assistant director of PE "Roads of Serbia", said that the long detour around Belgrade had been a long time coming, but that works were now being done on all sectors.

"The total value of the works is 207 million, and they are being executed in Sectors 4, 5 and 6. Sector 4 will be completed in September next year and the other two by September 2022," Tubic said.
Yang Bo, director of China's Power China Company for Europe, thanked deputy prime minister and the ministry for the opportunity for this company to participate in the implementation of such a major project important for the country.

"We have received all the construction permits and all the conditions are there to do the job properly and on time," he said.