Mihajlovic with the new ambassador of Slovakia: A lot of space for cooperation in infrastructure
Wed, 06-17-2020 - 07:57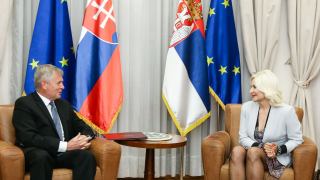 Deputy Prime Minister and Minister of Construction, Transport and Infrastructure, prof. Zorana Mihajlovic, PhD, met today with the new Ambassador of Slovakia to Serbia, Fedor Rosocha, and talked with him about the possibilities of cooperation between the two countries in the field of transport and infrastructure, but also the support of Slovakia to the European integration of our country.

Deputy Prime Minister Mihajlovic welcomed the Slovak ambassador and pointed out that Serbia's goal is EU membership, as well as regional cooperation, and our country's openness to cooperation in the field of infrastructure projects.

"It is very important for Serbia to have European standards. The ministry I lead is ready for negotiating chapters 14 and 21 - Transport Policy and Trans-European Networks. In the past few years, we have done a lot in the field of infrastructure, built 350 km of new highways. We are open for cooperation, because we want the best companies in the world to work in Serbia," she said.

Ambassador Rosocha emphasized the principled and strong support of Slovakia to Serbia on the road to the European Union, but also on the status of Kosovo and Metohija, saying that the policy of the new Slovak government has not changed and that Serbia and the Balkans remain priorities.

"There is a lot of space for cooperation. We have gone through the process of joining the EU and our experience can help you. On the other hand, we are interested in cooperation in the field of transport and infrastructure, you are working very well, and without infrastructure there is no development," said the ambassador.

Deputy Prime Minister gave a gift to the Slovak ambassador, a rug made by Serbian women within the initiative "Let's employ 1,000 women in rural areas", which was jointly launched by the Coordination Body for Gender Equality, NALED and the Ethno Network.