Mihajlovic: New contract with Russian Railways worth 230 million euros
Thu, 01/17/2019 - 12:44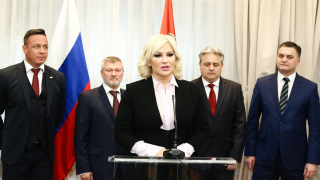 Deputy Prime Minister of Serbia and Minister of Construction, Transport and Infrastructure, prof. Zorana Mihajlovic PhD., was present today as the contract was signed between " Infrastructure of Railways of Serbia" and "RZD International" for the new projects on the railway, worth 230 million euros.

 
"We are working on this contract for two years now and we are happy to continue the successful cooperation with the Russian Railways. We are launching new projects - the construction of a new dispatch center from which traffic will be managed in all of Serbia, including Belgrade-Budapest high speed railway. We are starting to develop projects for the reconstruction of the remaining 210 km of Bar railway, which will begin in 2020, "said Mihajlovic.
Mihajlovic said that during today's visit of the President of the Russian Federation, Mr. Vladimir Putin, to Serbia, 21 documents will be signed, among which the contract for railway projects is the only commercial agreement.

 
"In the previous four years, we have negotiated from the Russian loan for the modernization of railway projects worth one billion euros and have reconstructed 205 kilometers of railroads, and all the projects on which we have worked together, were completed effectively within the deadline. We are now moving into new projects because our goal is that Serbia has a completely modern railway system connecting it with the region and Europe, " she said.
Miroljub Jevtic, director of "Infrastructure of Railways of Serbia ", said that this is a great day for the Serbian railway, thanks to excellent cooperation with the Government of Serbia and the Russian Railways.

 
"We continue extensively fruitful cooperation with RZD, we expect, among other things, the modernization of Bar railway in which there have not been any investments since it was built. Thank you to the Serbian Government and Deputy Prime Minister Ms. Mihajlovic for their support, "said Jevtic. 
Sergey Pavlov, general director of RZD International, said that today's signing of the contract is a logical continuation of successful cooperation between Serbian and Russian railways, for the benefit of citizens and traffic carriers in Serbia.

 
The contract includes the construction of a unique dispatch center for railways, an estimated value of 127.4 million euros, works on the construction of electrical infrastructure on the Stara Pazova-Novi Sad section in the amount of 91.9 million euros and the development of project and technical documentation for the reconstruction of 210 kilometers of Bar railway from Valjevo to the border with Montenegro, for which the remaining of 10.7 million euros is intended. Precise values for each project will be known after the development of technical documentation.