Mihajlovic: New European Commission to be successful, the crowning success be full Western Balkan countries' EU membership
Thu, 09/12/2019 - 09:41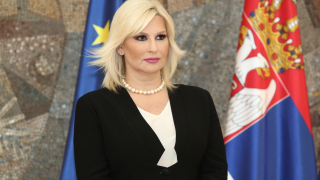 Deputy Prime Minister, prof. Zorana Mihajlovic PhD., expects that the new European Commission led by Ursula von der Leyen will be successful and that their success will be crowned with the territorial completion of Europe - full membership of the Western Balkan countries.

"They are encouraging the proposed composition of the European Commission and the goals set by President Ursula von der Leyen, such as concern for climate change, relations with China and the US, multiculturalism and protection of the European way of life. All this shows that the EU, but as a community, wants to be set. As a key geopolitical factor, she is particularly pleased that as many as 13 women have been nominated for commissioners, the most so far, which also shows the importance of gender equality for the EU," says Mihajlovic, who is also chairwoman of the Coordination Body for Gender Equality.
Mihajlovic also expects that immediately after Pristina election, European Commission will focus on Belgrade-Pristina negotiations and reach a compromise solution for Kosovo.

"I expect a fair and balanced policy of Europe towards Serbia, which will evaluate our results and reforms that have been carried out. In support of this is the proposal for the new Enlargement Commissioner to be former Hungarian Minister of Justice, Laszlo Trotlani, who is openly committed to the enlargement of the European Union to countries of the Western Balkans, " Mihajlovic said.