Mihajlovic with new US ambassador: Serbia attractive for investments, we will continue to support you
Mon, 10-28-2019 - 15:30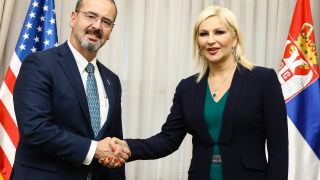 Deputy Prime Minister and Minister of Construction, Transport and Infrastructure, prof. Zorana Mihajlovic PhD., met today with the newly appointed US Ambassador to Serbia, Anthony Godfrey, and discussed with him the continuation of cooperation between the two countries.

Mihajlovic welcomed the new US ambassador, expressing her expectation that good cooperation so far would continue and become even better in his tenure.
"Thank you for your support to our country and the Government of Serbia. Serbia is changing and is not the same as five years ago, today we are economically and politically stable, which gives us the opportunity to embark on a new investment cycle worth more than 10 billion euros, "she said.

Ambassador Godfrey congratulated Deputy Prime Minister and her team on the results they achieved, emphasizing the great importance of the Ministry for the advancement of the Serbian Economy.
"I am proud of the cooperation of our two countries, especially when it comes to Doing Business list. Serbia is a wonderful country and we need to show, through joint cooperation, how attractive it is for new investments. We will continue to support Serbia on the path of reform and economic prosperity," said Godfrey.

As a token of welcome, Deputy Prime Minister Mihajlovic gave the alphabet in gold-smith to Ambassador Godfrey, the work of Serbian women from the countryside, who make traditional Serbian handicrafts as part of the initiative of the Coordinating Body for Gender Equality, NALED and the Ethno-Network "Let's employ 1,000 Women in Rural Areas".