Mihajlovic: Next year, the beginning of the construction of Belgrade-Nis high-speed railway, for a speed of 200 km / h
Thu, 07-30-2020 - 09:35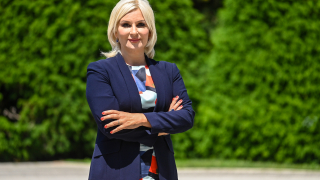 Deputy Prime Minister and Minister of Construction, Transport and Infrastructure, Prof. Zorana Mihajlovic, phD, stated, as a guest in the morning program of TV Happy, that in addition to the modernization of the high-speed railway from Belgrade to Budapest, a high-speed railway to Nis will be built, at a speed of 200 kilometers per hour.

"This is an investment with an estimated value of two billion euros, we will work with Chinese partners who have a lot of experience on such projects. "This is not just about connecting cities, but about regional connectivity, because there is no more important main corridor than Corridor 10," she said.

Mihajlovic reminded that no investments had been made in railways for decades, and that, according to the World Bank, Serbia had missed several investment cycles in the railways.

"When whole Europe was developing railway traffic, we stopped, which was a very wrong decision. The state is investing in the railway today, that is strategically important to us. With the completion of these projects, we will become much more competitive than Corridor 4, which runs through Romania and Bulgaria. We have to do a lot of things in parallel, to satisfy basic needs, but also to keep up with modern technologies, "she said.

Deputy Prime Minister also reminded that the section of the high-speed railway from Belgrade to Novi Sad will be completed next year, that the construction of the high-speed railway from Belgrade to Nis will also begin, and that the railway to Presevo will be built in cooperation with European partners.

"Apart from the railway, we are working full steam ahead in road traffic. The works are being performed on the sections Sremska Raca - Kuzmin, Ruma-Sabac-Loznica, a tender is being announced for Nis-Plocnik. "No construction site is closed, we are in touch with the contractors every day to help where we need to, because we all care about work, that is of great importance for our economy," she concluded.