Mihajlovic: Nine billion euros for new infrastructure projects
Fri, 05-29-2020 - 11:08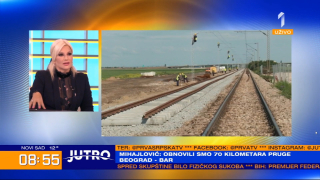 "Today, Serbia is a politically stable country, with a stable budget that allows us to implement large infrastructure projects in which it will be included in the 2020-2025 investment plan, 9 billion euros will be invested ", said Deputy Prime Minister of Serbia and the Minister of Construction, Transport and Infrastructure, Prof. Zorana Mihajlovic PhD.

Speaking as a guest on the morning program of TV Prva, she pointed out that Serbia had built 350 km of highways and rehabilitated more than a thousand regional roads in four years.

"Everything we did in the previous period gives me the right and legitimacy to say that we will build 500 km of highways. We are currently building 250 km of highways, and we will invest 1 billion euros for the reconstruction and rehabilitation of 5000 local and regional roads.
"Today, the best companies in the world work in Serbia, which is proof of our political stability," she said.

Mihajlovic added that Serbia is investing in railway traffic, and that after the reconstruction of 77 km of Bar railway from Resnik to Valjevo, next year the reconstruction from Valjevo to the border with Montenegro, at a speed of 120 km / h, will start.

"Bar railway was built 44 years ago and the same amount was not invested in it. This government has renewed the first 77 km and we are moving on. Today, we have the largest railway construction site in Southeast Europe, we are implementing a project of a high-speed railway from Belgrade to Budapest worth 4 billion euros. Next year, we will start building a high-speed railway from Belgrade to Nis, which will also run 200 km / h, and then from Nis to Presevo. We want the citizens to have a feeling of a different and better quality and way of life," she said.